Leader in Me
is a school-wide process dedicated to transforming the culture of a school with an emphasis on leadership and is based on the seminal work of Dr. Steven Covey's
7 Habits of Highly Effective People.
Did you know?
The Cedar Valley has 1500 jobs available.
Some companies have added 30-50% to their workforce and would like to add more.
The Cedar Valley has 50+ management/supervisory positions earning $45K-75K… many have been open for 18 months
Did you know?
In companies averaging 100 employees or more:

There are 19 positions open at any given time.
It will take an average of 36 applicants to fill one position.
Of those 36 applicants, it will take 10 interviews to fill one position.
The Cedar Valley has a skill deficit among potential employees.
It has nothing to do with them lacking academic content, having poor grades, or minimal testing proficiencies, because our Cedar Valley schools are preparing students in these areas.
It doesn't have anything to do with technical or job-related skills because Cedar Valley companies will train new employees.
It has everything to do with our potential pool of employees increasingly lacking:

Soft skills (21st century skills, Essential skills)
Leadership skills
Communication skills
Work ethic and initiative
Manners
(Source: Greater Cedar Valley Alliance and Chamber, June 2013)
Leader in Me
is an international initiative sponsored by FranklinCovey and based on the seminal work of Dr. Steven Covey's
7 Habits of Highly Effective People
.
Leader in Me
is a school-wide process dedicated to transforming the leadership culture and performance at the schools
.
Becoming a leader should not be an opportunity for just some students, but for ALL students. Dr. Stephen Covey defines leadership as a choice, not a position. Our educators are primed to help ALL students choose to be leaders in a nurturing environment that provides them the necessary authentic learning and leadership opportunities, while identifying and cultivating their special gifts and talents. Coupled with explicit teaching and practice of The 7 Habits of Highly Effective People, our young people have the opportunity to develop the essential soft skills needed for a life of effectiveness.
All of our Leader Valley
Leader in Me
schools embed the
7 Habits of Highly Effective People
, identify the gifts and talents of all students, and provide authentic and meaningful leadership roles and opportunities to learn about leadership. L
eader in Me
has four principle focuses:
Developing essential soft skills in all students
Identifying and nurturing the gifts and talents of all students
Providing authentic and leadership opportunities for all students
Applying The 7 Habits of Highly Effective People
Click here to see why Cedar Valley students like Leader in Me.
CONTACT US
Looking to get your business involved?
Let's talk! Leader Valley is a collaborative effort with Cedar Valley schools, businesses, and the community.
1. Volunteer in our Leader in Me schools
2. Visit our Leader in Me leadership days
3. Sponsor a Leader in Me school
Please contact Melissa Reade, Leader Valley Director at 319-232-1156 or mreade@cedarvalleyalliance.com.
CONTACT US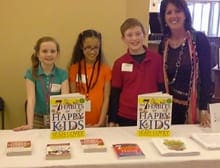 View Media Gallery >>
"In this ever-changing world, we need people who can be leaders, who are respectful, who are kind, who are compassionate, who will walk in other people's shoes. That's what Leader in Me teaches. Without those life skills, it's really hard to become a successful person once you've become an adult. "
View All Testimonials >>