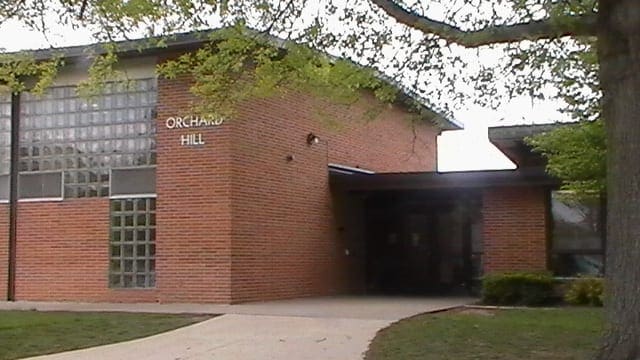 Mission: Leaders learning in a safe, caring community.
Vision: Believe, Achieve, Lead.
Orchard Hill Elementary Overview
The Orchard Hill Elementary School staff is dedicated to providing educational experiences designed to promote and develop each student's maximum potential. We believe we need to create an environment that stimulates intellectual growth, as well as personal, social and physical growth of the students. We believe that the education of each child is our primary goal at Orchard Hill School. Each student should be motivated to develop intellectual skills to his/her fullest potential. Opportunities should be provided so that each child will acquire the strategies for thinking critically and solving problems effectively. We believe that the acquisition of these skills and strategies will create a foundation for lifelong learning. We recognize that the school, along with the home, shares in the responsibility of the personal development of Orchard Hill children. Because of the uniqueness of each child we believe it is vital to assist the student in the development of his/her personal attributes. These include a positive self-image, responsibility and self-discipline, and the opportunity for self-expression. We believe positive growth in these areas will enable the child to function in a changing society. We believe that we must provide experiences that help students develop the skills needed to be a contributing and well-adjusted member of society. Through teacher guidance we must help students learn to interact with their world, develop leadership potential and be flexible in their thinking and in their life style. We believe that the physical development and well-being of our students is of vital importance to their intellectual, personal and social growth. This is achieved through health and hygiene instruction and participation in a variety of physical activities.
Orchard Hill has a student leadership council that meets regularly to focus on service learning and building-wide leadership activities.
Orchard Hill Elementary
3909 Rownd St.
Cedar Falls, IA 50613
(319) 553-2465
Percent of Students Participating in Student-led Conferences
Leader in Me journey Begins!
Orchard Hill Elementary's Media Gallery