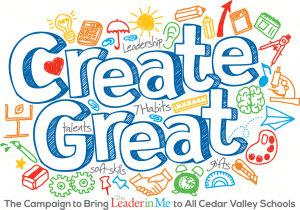 $250,000 1:1 Fundraising Match
Tom & Ginger Penaluna both have a lifelong passion for education and servant leadership. The couple met while pursuing their educations at Mankato State University.  Through the years Tom has led CBE Companies through multiple expansions, acquisitions, and substantial employment growth since 1986.  During those years, Ginger taught art in the Waterloo Public Schools, and together they raised their 4 daughters with a foundation of faith and strength.
Tom & Ginger's passion for education and developing leaders has been instrumental in founding Leader Valley, an education and business partnership formed to enable K-12 education in the Cedar Valley to go from good to great and deliver better citizens and job candidates to the Cedar Valley.
So far, our generous donors have raised $127,500 (51%) of the match. Keep investing and impacting students all across the Cedar Valley. Donate today!

How Will Your Gift Be Used?
There are a few options for directing your gift! You are free to designate the restrictions you would like placed on your gift.
The launch costs are general costs specific to the implementation and administration of Leader in Me. This includes onboarding all of our Cedar Valley schools through the 3-year LIM process. These costs may include but are not limited to workshop materials, facilitator costs, or student implementation materials. They can also include administrative expenditures such as Leader Valley staff working with the schools, events like a regional Leader in Me Symposium, special workshops to update parents, public and school district communications, or project evaluation that measures Leader in Me impact.
How Will Your Gift Be Recognized?
There are many ways your gift may be recognized. Click here to view the donor recognition table.
For a complete list of frequently asked questions, click here
.
Who Else Has Helped to Create Great?
Thanks to the generosity of business leaders and individuals, Leader Valley has already raised more than $3.2 million.  Click here to view the list of donors.
Additionally, Leader Valley wants to recognize AMPERAGE Marketing and Fundraising for their passionate work to assist and support young leaders in the Cedar Valley. AMPERAGE has assisted Leader Valley with marketing and fundraising and we are appreciative of their continued support.
To download a printable version of the pledge form, click here
.
Leader Valley, through the Leader Valley Foundation Inc., does not solicit charitable contributions from residents of Florida, New Jersey, New York and Pennsylvania. Contributions to the Leader Valley Foundation, a 501(c)(3) nonprofit organization, are tax-deductible to the greatest extent of the law.