One of the four principles of Leader in Me is identifying and nurturing the gifts and talents of all students. To help make the Cedar Valley the best place for families to raise their children and for our children to excel, it starts with improving the culture in our schools, ensuring that our children are learning and developing in a good environment.
School Culture Case Study
One of the Leader in Me schools in this study released their climate and culture data from both mid-year results and end of year results after one year of Leader in Me implementation.
The mid-year results from building staff indicated the following during the 2013-2014 school year:
85% of staff believe their climate and culture supports the potential for all students
94% of staff reported that they enjoy coming to work
98% of staff believe all students can be leaders
When comparing 2012-2013 year end culture data to 2013-2014 year end data, the staff in this building indicated significant growth in all areas, but most noteworthy include:
Open respectful communication among staff increased from 21% to 79%

A clear vision for the school increased from 28% increase to 96%
Effective handling of disciplinary issues increased from 49% to 86%
Staff believe that there are high expectations for ALL students increased from 23% to 95%
While not all of the growth signified above can be attributed to the Leader in Me as part of the improved school culture, the building leaders and staff tend to agree that the establishment of the leadership culture, coupled with a growing enthusiasm for learning and leading, and the application of the 7 Habits with staff and students, were very significant in the improved results of this culture and climate survey.
The findings in this case study are indicative of many Leader in Me school cultures.
CONTACT US
Looking to get involved?
Let's talk! Leader Valley is a collaborative partnership with Cedar Valley schools, businesses, and the community.
CONTACT US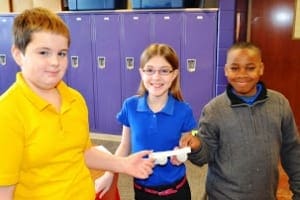 "For the teachers it really has been an investment in them because the concept is if they have the 7 Habits, use the 7 Habits, and personalize the 7 Habits, and are models for that and use it in their daily life, then that will become a part of the school culture because it is the part of who they are."